Hello everyone! This month has been very busy for me and filled with lots of books as you can see from the picture above. I loved every book I read this month which I am so pleased about. So, if you want to know more about the books I read in the month of January, keep reading!
Passenger by Alexandra Bracken:
Read: December 27, 2016 - January 3, 2017
Rating:
⭐⭐⭐⭐
1/2 (4.5 stars)
Summary:
In one devastating night, Etta Spencer loses everything she knows and loves. Thrust into an unfamiliar world by a stranger with a dangerous agenda, Etta is certain of only one thing: she has travelled not just miles but years from home.
Nicholas Carter is content with his life at sea, free from the Ironwoods - a powerful family in the Colonies - and the servitude he's known at their hands. But with the arrival of an unusual passenger on his ship comes the insistent pull of the past that he can't escape and the family that won't let him go. Now the Ironwoods are searching for a stolen object of untold value, one they believe only Etta, his passenger, can find.
Together, Etta and Nicholas embark on a perilous journey across centuries and continents, piecing together clues left behind by the traveller who will do anything to keep the object out of the Ironwoods' grasp. But as they get closer to their target, treacherous forces threaten to separate Etta not only from Nicholas but from her path home forever.
Review:
If you read my previous posts then you would know that I loved this book and I actually wrote a review for it already here.
On the Fence by Kasie West:
Read: January 3, 2017 - January 4, 2017
Summary:
For sixteen-year-old Charlotte Reynolds, aka Charlie, being raised by a single dad and three older brothers has its perks. She can outrun, outscore, and outwit every boy she knows—including her longtime neighbor and honorary fourth brother, Braden. But when it comes to being a girl, Charlie doesn't know the first thing about anything. So when she starts working at chichi boutique to pay off a speeding ticket, she finds herself in a strange new world of makeup, lacy skirts, and BeDazzlers. Even stranger, she's spending time with a boy who has never seen her tear it up in a pickup game.
To cope with the stress of faking her way through this new reality, Charlie seeks late-night refuge in her backyard, talking out her problems with Braden by the fence that separates them. But their Fence Chats can't solve Charlie's biggest problem: she's falling for Braden. Hard. She knows what it means to go for the win, but if spilling her secret means losing him for good, the stakes just got too high.
Review:
Another great Kasie West book. I love how this one focuses on coming to terms with who you are and what you like, as well as, demonstrating that it's not mandatory to fit in certain boxes because of your gender. It does have a bit of a sadder tone compared to her other books which are mainly cute and fluffy reads but it was actually something I really liked about this book as it made it feel more real. I found that I was getting frustrated with Braden at times throughout this book but the ending made up for that. Overall, it was a very nice and short read.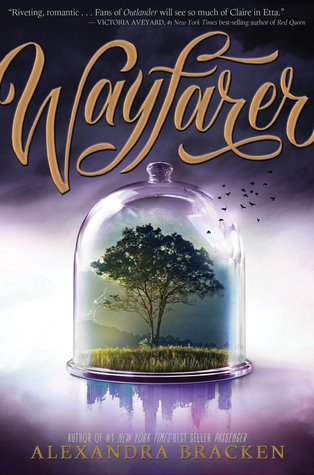 Wayfarer by Alexandra Bracken:
Read: January 9, 2017 - January 14, 2017
Summary:
If you have read Passenger then click here to read the summary of Wayfarer. I don't want to spoil anyone so I thought this was the best way to do it. My review is spoiler-free though.
Review:
The beginning was a bit confusing and slow at times but I still enjoyed it nonetheless. The action scenes were incredibly written and the new characters that were introduced were so great. The ending was lovely and I'm overall really happy with the way this series wrapped up.
The Sea of Monsters by Rick Riordan:
Read: January 15, 2017 - January 17, 2017
(
I read this as an ebook on my Kindle so that is why it is not featured in the picture above).
Summary:
I don't want to spoil anyone as this is the sequel to The Lightning Thief so if you have read the first book, click here to read the summary for The Sea of Monsters.
Review:
Filled with tons of adventure, hilarious dialogue, great friendships, and facts about Greek mythology. It ended totally unexpectedly and leaves readers surprised and incredibly curious as to what will happen in the sequel. I can't wait to continue on with this wonderfully entertaining series!
A Monster Calls by Patrick Ness:
Read: January 20, 2017 - January 21, 2017
Summary:
An unflinching, darkly funny, and deeply moving story of a boy, his seriously ill mother, and an unexpected monstrous visitor.
At seven minutes past midnight, thirteen-year-old Conor wakes to find a monster outside his bedroom window. But it isn't the monster Conor's been expecting-- he's been expecting the one from his nightmare, the nightmare he's had nearly every night since his mother started her treatments. The monster in his backyard is different. It's ancient. And wild. And it wants something from Conor. Something terrible and dangerous. It wants the truth. From the final idea of award-winning author Siobhan Dowd-- whose premature death from cancer prevented her from writing it herself-- Patrick Ness has spun a haunting and darkly funny novel of mischief, loss, and monsters both real and imagined.
-----
Review:
Painful but important. Thought-provoking and incredible moving. This brought me to tears and spoke to my heart. A simple yet powerful read. I also watched the movie which was so emotional and just plain beautiful. Watch the trailer here! I highly recommend.
Salt to the Sea by Ruta Sepetys:
Read: January 17, 2017 - January 23, 2017
Summary:
Winter, 1945. Four teenagers. Four secrets.
Each one born of a different homeland; each one hunted, and haunted, by tragedy, lies…and war.
As thousands of desperate refugees flock to the coast in the midst of a Soviet advance, four paths converge, vying for passage aboard the
Wilhelm Gustloff
, a ship that promises safety and freedom.
Yet not all promises can be kept.
Inspired by the single greatest tragedy in maritime history, bestselling and award-winning author Ruta Sepetys (
Between Shades of Gray
) lifts the veil on a shockingly little-known casualty of World War II. An illuminating and life-affirming tale of heart and hope.
Review:
I've been hearing amazing things about this book--the two most common being: "my favourite book" and "one of the best historical fiction books I've ever read." So, naturally, I had to read it.
I've always found WWII historical fiction so interesting but also quite devastating to read about. I just want to know people's stories--whether that being them personally or family members who were in the war--and what their experiences were like.
This book did exactly that and had me hooked from the very first chapter.
I love that the chapters were really short as it added a great pace to the story instead of dragging on and taking away from it. I also like that this was written in a multiple POV format as I found I could connect with the characters better in first person. Each chapter is written with such diligence and just really captivates you. I couldn't even put this book down because the way Ruta ends each chapter left me wanting to know more.
I became so attached to the characters and the relationships they formed. I knew this book was going to end with a tragedy but I just didn't want to believe anything would happen to them. Very bittersweet ending but overall a very important read. I'm really glad that this book taught me about this tragedy as I have never heard about it before. You can tell how much research was put into this and I really wish more people knew about it as well.
This book definitely did not disappoint and was everything I needed and more. Incredibly gripping and heartbreaking. 5/5 stars. I also recommend watching Ruta's
video
on her book as she is just so eloquent and you really get to learn how much work was put into this novel. She is just such a kind and intelligent woman and I am definitely going to read more of her works in the future.
I hope you all had a great week and a great day today. I usually post on a Friday but I was super busy this week so that's why this is up a day late. I hope you liked my post today! Enjoy your weekend and I'll see you next week! Thanks for reading.